Dueling Tree / Vertical Plate Rack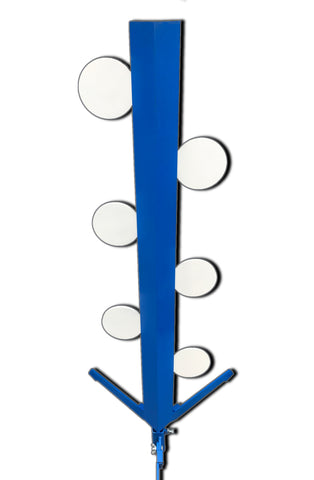 Dueling Tree / Vertical Plate Rack
Description:
The most revolutionary reactive target on the market! Our dueling tree functions flawlessly for countless hours of fun for yourself or head to head action. We specifically designed this target to be used as a dueling tree and as a vertical plate rack by simply changing the drop in AR500 target paddles. The 6" round AR500 paddles slip into place in seconds for easy set-up and take down without any bolts or welds to the target paddles. Main vertical shaft stands 64" tall and drops in our tactical stand that folds up.
Includes six 3/8" thick by 6" diameter target paddles, main shaft, & base
Comes painted as shown
3/8" AR500 rifle shield included
Very durable design for superior life
Weight: 151.0 lbs 
Other fine products
Product Types
Product Types
Best Sellers
Easy to use hooks that allow you to hang multiple gong targets in s...
This awesome AR500 target set features our "ABC Zone" silhouette ta...