News » police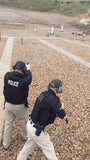 At Blue Steel Targets we are always excited to get the opportunity to work with Military, Police, and Law Enforcement personnel from all over the world. Tactical training of several types can be performed with our quality AR500 steel targets.    Skill building is a big advantage of using steel targets. The instant feedback on shot placement along with reactive targets such as our AR500 Texas Star is phenomenal in gaining confidence in speed and transition shooting. Recently we outfitted Fort Carson Colorado, the 10th Special Forces Group, with two of our AR500 Texas Star targets; they then sent them to...
Read more
Product Types
Product Types
Best Sellers
Easy to use hooks that allow you to hang multiple gong targets in s...
This awesome AR500 target set features our "ABC Zone" silhouette ta...