News » texas star
Filed under
AR500 steel targets
,
big game
,
five star
,
gong targets
,
hunting
,
long-range shooting
,
rifle shooting
,
rifles
,
steel targets
,
texas star
,
training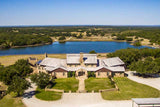 If you want the ultimate in long range shooting then you will not need to look any further then the exclusive experience at Champion Ranch located in the the Heart of Texas. Any time of year the accommodations are tailored to your needs including a climate controlled shooting tower. From the tower you will be able to shoot rifles at BlueSteelTargets.com steel gongs, plates, and Texas Star targets in increments of every 100 yards out to 1,000 yards!                                             ...
Read more
Product Types
Product Types
Best Sellers
Easy to use hooks that allow you to hang multiple gong targets in s...
This awesome AR500 target set features our "ABC Zone" silhouette ta...